| | |
| --- | --- |
| Massage Somerset | This Business is for Sale/Rent for any massage therapist. Contact Here |
MOBILE OUTCALL HOME VISIT MASSAGE IN FROME & NORTH EAST SOMERSET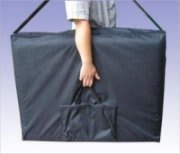 How does Mobile Massage work?
With mobile massage therapy we can visit your home, hotel or place of work to deliver the treatment. I will bring all the equipment necessary, table, towels, oils, music, etc. All we require from you is a space for the work, good directions and some water for us both to drink before and after the session.
Does Mobile Massage cost extra?
If you live outside my local area of Frome then yes it does. There is a charge to cover the petrol costs and extra time (minimum charge of £5) to visit your location, this available on request. If you require regular visits then we can make a special arrangement.
Who is mobile massage suitable for?
Mobile massage service is best suited to people who do not drive, have an infirmity that makes travel difficult, or who just what the pleasure of receiving a massage and being able to chil out in their own home afterwards.
FLEXIBLE APPOINTMENTS
I do not have fixed times when I work. I work mornings, afternoons and evenings, 7 days a week, at my different massage clinic locations. I just need to find a suitable time for us both to make a booking. In many cases, I have been able to fulfill a massage request on the same day as the enquiry.
FAMILY HOME VISITS
Keep you, your partner and your family healthy and relaxed with a home visit. We can visit your home and treat everyone to a massage. A great gift for all and special prices are available upon request.