| | |
| --- | --- |
| Massage Somerset | This Business is for Sale/Rent for any massage therapist. Contact Here |
RELAXING SWEDISH BODY MASSAGE SOMERSET
Glastonbury covering: Street, Wells, Shepton Mallet.
Frome covering: Trowbridge, Warminster, Westbury.
Mobile home visit massage in the surrounding Mendip area.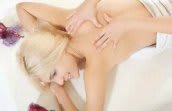 Relaxing body massage is a great gift of pleausre, invoking deep relaxation of the mind and body. Relaxing massage helps to relieve full body muscle tension and stress. You will be invited to lie down and relax with soothing music and pleasent smells as I gently persuade the muscles to relax and unwind. It's a beautiful gift to give to yourself or your loved one.
Who is relaxing body massage suitable for?
Anyone who feels that they deserve to a treat. This massage therapy uses techniques that clear muscle tension, stress and can help to combat insomnia. It is a very rejuvernating experience and can really replenish your energy. This massage treatment is suitable for people who just need a weekly or fornightly "pick me up" to keep them in good health and humour.
If you are suffering from chronic or acute muscle tension and pain, I suggest choosing the Deep Tissue Massage therapy instead.
What is covered in a relaxing body massage?
In a treatment I will massage your back and neck throughly and then move onto the back of your legs. You are invited to lie face up where you can relax more easily and I will massge your feet, legs again, arms, hands and neck. During a longer session, I will do all of the above just in a lot more detail and give more time to each section, for a more indulgent relaxation.
Relaxing Body Massage Prices:
| | |
| --- | --- |
| ½ Hour | £ 25 |
| 1 Hour | £ 40 |
| 1 ½ Hours | £ 55 |
| 2 Hours | £ 70 |
There is an extra charge of £5 for appointments during Sundays and public holidays
Relaxing Body Massage Consultations
Please give yourself more time for your relaxing full body massage session as I will ask you about your physical condition, goals, and any particular problem areas that need attention. We can select the most suitable music (or not) and which oil you prefer. This preparation time is to help you to feel comfortable with me and with the massage. You will still get your full time on the massage table. This groundwork means on your subsequent sessions, I will be much better prepared for your relaxation and pleasure.
GIFT VOUCHERS
give your special someone the wonderful gift of a Relaxing Body massage. To show them how much you truly care.

TESTIMONIALS
CONTACT
OTHER MASSAGE THERAPIES
SPECIAL OFFERS & DEALS
10% DISCOUNT!
Available for all treatments with Robert. Join our mailing list to qualify.